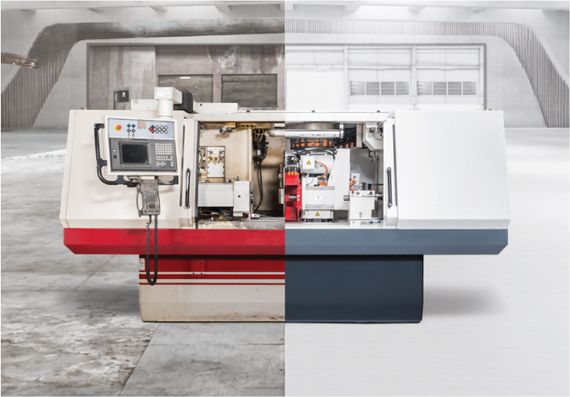 When is it time for a grinding machine tool rebuild?
Repairs and rebuilds are a great way to get like-new performance from your well-used grinding machine tool. At UNITED GRINDING North America, we use only OEM parts to ensure the finest rebuild possible. It starts with an on-site evaluation of your machine to take inventory of its requirements and to note your future needs.
A machine rebuild includes:
Complete machine disassembly
Guideway renewal
Freshly repainted enclosures and components
Evaluation of the machine and its geometry
Replacement of all worn parts
Recommissioned geometry
During the overhaul, we make every effort to provide you with a loaner machine.

Benefits of a grinding machine tool rebuild
Our repair and rebuild service brings a long list of benefits, including:
Full one-year warranty on all service and parts
Precision and productivity that's comparable to a new machine
Employees can resume operations on familiar equipment
We can perform some forms of mechanical and electrical service, including some retrofits, while your equipment remains at your shop. Talk to us to determine the best approach to your equipment needs.
Grinding machine tool assembly overhaul
We analyze the assembly in detail and prepare an estimate for the overhaul, tailored to your requirements. An assembly overhaul comprises:
Functional and geometry inspection
Construction of the assembly and geometry
Repainting of the components
If required, we can undertake conversion and retrofitting of options for you and commission the machine at your premises. Naturally, you will also benefit from a warranty on all work carried out.

The advantages of an assembly overhaul
An assembly that's as good as new
Extended service life of the machine
Rectification of geometry problems
Ask Customer Care for a Rebuild Evaluation