https://www.grinding.com/en/
UNITED GRINDING
UNITED GRINDING North America Introduces New Four-Year Apprenticeship Program in Miamisburg, OH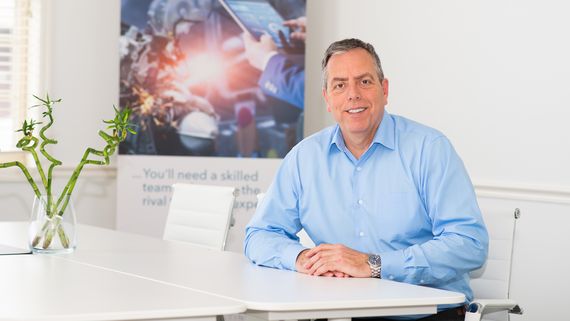 MIAMISBURG, Ohio, May 18, 2023 — UNITED GRINDING North America, a subsidiary of Swiss-based UNITED GRINDING Group, is proud to announce the launch of its new four-year Apprenticeship Program. This groundbreaking initiative aims to provide aspiring individuals with a unique opportunity to earn a full scholarship for an Associate's Degree in Automation & Control Technology with Robotics AMCT.S.AAS (Mechatronics) from Sinclair College while gaining invaluable hands-on experience.
The new Apprenticeship Program is designed to bridge the gap between theoretical education and practical application in the field of automation and control technology. By offering a comprehensive curriculum and a fully immersive learning experience, the program equips apprentices with the skills and knowledge required to excel in the ever-evolving world of precision machines for grinding, eroding, lasering, measuring, additive manufacturing and combination machinery.
"We are thrilled to introduce our new apprenticeship program in Miamisburg, Ohio," said Mr. Markus Stolmar, President and CEO of United Grinding North America. "As a company committed to technological innovation and fostering talent, we recognize the importance of investing in the future workforce. This program not only provides an excellent educational foundation but also offers apprentices the chance to earn a competitive salary and benefits while they learn."
During the four-year program, apprentices will split their time between attending classes for their Associate's Degree at a renowned educational institution and actively participating in a hands-on learning program at UNITED GRINDING North America's state-of-the-art facility. This hybrid approach ensures that apprentices gain practical experience working with cutting-edge machinery while also receiving a comprehensive academic foundation.
"We believe in the power of apprenticeships to cultivate skilled professionals who can contribute to our industry's growth," said Mr. Andreas Brockmann, Apprenticeship Coordinator at UNITED GRINDING North America. "Through this program, apprentices will have the opportunity to work alongside experienced mentors, engage in real-world projects, and develop a deep understanding of our cutting-edge technologies."
The UNITED GRINDING North America Apprenticeship Program offers numerous benefits to participants, including a full scholarship for the Associate's Degree, a competitive salary, and comprehensive benefits package. By providing a supportive learning environment and enabling hands-on experience with industry-leading technology, United Grinding aims to equip apprentices with the skills and expertise required to thrive in their future careers.
To learn more about the United Grinding North America Apprenticeship Program or to apply, please visit the official website at:

https://careers-unitedgrinding.icims.com/jobs/1150/apprentice---mechatronics/job