https://www.grinding.com/en/
UNITED GRINDING
UNITED GRINDING To Highlight Latest Offerings At EMO Hannover 2023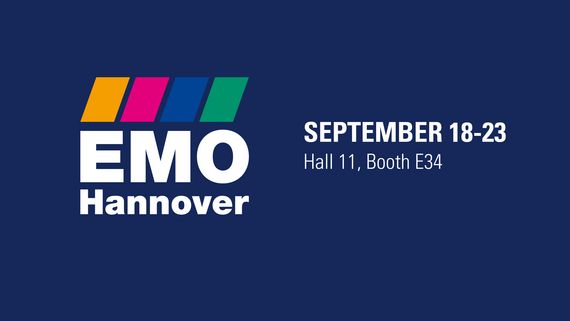 At EMO 2023 in Hannover, Germany, the UNITED GRINDING booth in hall 11, booth E34 will showcase 16 machines, innovative technology and updates from the Customer Care team.
The UNITED GRINDING Group, one of the world's leading manufacturers of grinding, eroding, laser and measuring machines, is considered one of the pioneers in the development of innovative technologies in the manufacturing industry. Fittingly, "Innovate Manufacturing" is the motto of this year's EMO in Hannover. The Group is excited to welcome attendees at its sizable space in Hall 11, Booth E34.
Customer Care special exhibition area and machine highlights
With its special exhibition area this year, the Group is placing a focus on Customer Care. This includes all products and services that accompany customers during the service life of their machines and support them in efficient production, all the way from start up to retrofit.

Visitors will also get information about all of UNITED GRINDING's digital assistance systems. These include Production Monitor, Service Monitor and Remote Service, which are grouped under the Digital Solutions™ offering. In addition, the latest digital solutions will be presented at EMO.

On top of this, booth visitors can look forward to several innovations and highlights among the 16 machines on display:

BLOHM, the specialist for surface and profile grinding machines, is celebrating a world premiere: the PLANOMAT XT 408 with automatic workpiece loading and unloading. An exciting new solution for the internal machining of hydraulic motor stators.
STUDER will also have a cylindrical reveal: an innovative automation solution that will be on display on the S31 universal external cylindrical grinding machine.
WALTER will present the innovative Laser Contour Check measuring system for the first time at EMO. The tool grinding feature results in highly accurate, non-contact measurement of various tool parameters on cylindrical tools, which is now also available as an option for the HELITRONIC MICRO and HELITRONIC MINI PLUS tool grinding machines.
The machines also allow users to experience groundbreaking C.O.R.E. technology for themsevles. This proprietary operating system creates the basis for a new generation of machine tools, with simple networking, intuitive smartphone-like operation and the ability to use modern software applications directly on the machine.
UNITED FOR YOUR SUCCESS
UNITED GRINDING will proudly display its slogan at EMO 2023: "UNITED FOR YOUR SUCCESS." This motto succinctly describes what the company stands for: With nine brands under one roof, the Group is strong, and it uses this strength to make its customers even more successful - and has been doing so for 30 years.

The UNITED GRINDING Group is looking forward to many personal conversations with customers, partners, friends and the EMO audience at large.